Impact Teen Drivers
During Martha Tessmer's Impact Teen Drivers presentation, she often refers to the "dots left behind."  Martha is one of those people behind the dots.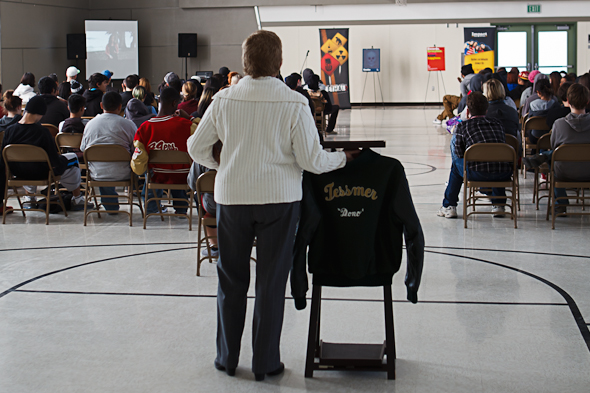 I followed Martha to two East Bay high schools this week and photographed her while she prepared and presented.  Martha must prepare during the middle of her presentation too. She is not merely presenting a lesson, but part of herself that every parent prays will never be a reality.
At the second presentation, I also met Impact Teen Drivers Executive Director Kelly Browning, PhD and California Highway Patrol officers from the Golden Gate Division. The officers were attending an Impact Teen Drivers training after the Wednesday, December 7 presentation.
Martha and the people at Impact Teen Drivers save lives. Unfortunately, as educators, they will not see the lives they save. When officers visit classrooms and auditoriums, the officers might suspect that their message reaches students, but officers will not see the results the same way that officers see a crash site. Some officers, especially officers with children, will never forget some accidents.
I think about crash sites every time I hear a person complain about receiving a ticket. I think about the officers and the families who have lost children every time I hear the same complaint, "Don't those officers have something better to do?"
Often, officers have to do something much worse.
Comments
comments