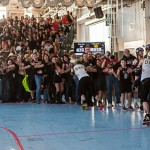 Since the top two teams at the Women's Flat Track Derby Association West Region Tournament automatically advance to the national tournament in Atlanta, the third place game between the Bay Area Derby Girls and the Rose City Rollers was probably the most dramatic of the tournament. The bout was especially exciting since the BAD Girls  hosted this year's West Region Tournament.
The bout was close the entire game (though not as close as the seventh place game) and there were very few two minute jams. (To those who have not watched roller derby, there were not many penalties nor big scoring plays… a lot of field goals.) The home crowd was excited to be returning to nationals. Portland fans are cool too.
For more photos from the evening see this link. Great light at the Craneway Pavillion.… Read the rest
---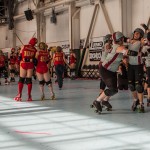 Was there any doubt that the bout between Angel City Derby Girls and the Sacred City Derby Girls was the greatest match of the 2012 Women's Flat Track Derby Association Western Regional Tournament?
The two teams are bitter sweet rivals with a relatively long history. When the bout ended, Angel City's tournament MVP Jammer Fifi Nomenon fell to the track one point short of Sacred City, but many fans thought Angel City won. The two teams fought, pushed, skated, and tugged the entire game. When Sacred City eventually won, players from both teams cried. Players from other teams cheered.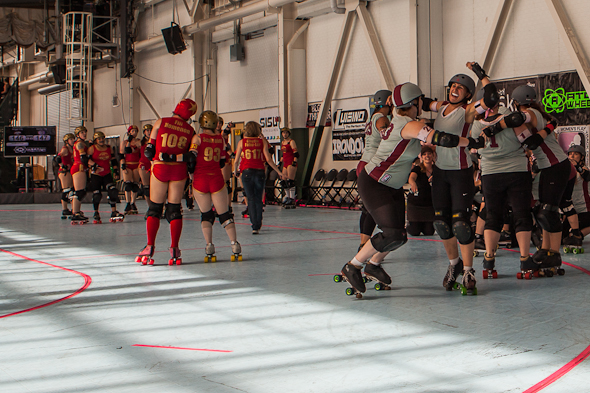 I love close games and I would watch these two teams compete every day. I also wish my children had attended so my son and daughter could have watched how the players respected each other despite the fierce competition. Despite losing an agonizing bout, Angel City congratulated their rivals. Sacred City celebrated without being arrogant.… Read the rest
---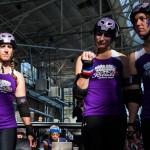 Delayed by the sun…
The final two bouts of the WFTDA West Region Playoffs were postponed by an hour, because the sunlight interfered with the skaters' ability to skate. Sporting events have been delayed and canceled for many weather related incidents, but I have never photographed one postponed by sunlight. When it happened Sunday, everyone was happy (and everybody was laughing), except for me. I love natural light and the players at the Craneway Pavillion in Richmond, California appeared regal.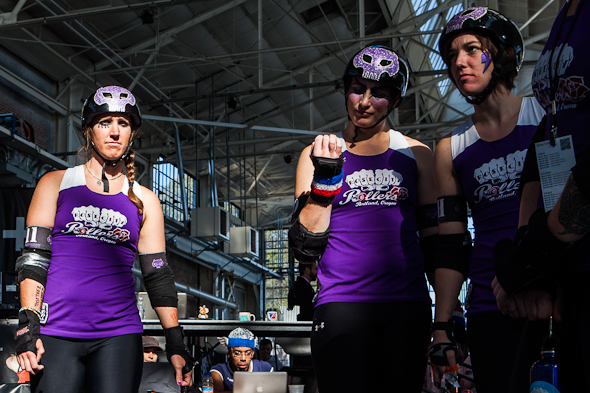 When the Women's Flat Track Derby Association (WFTDA) postponed the final until 7:00, many photographers began using off camera strobes and on camera flashes repeatedly. Since I have photo-sensitivity, I am easily disturbed by strobe lights. The strobes bounced off Craneway's tall windows, white walls and reflective derby surface adding to the strobe effect. Fortunately, I captured magical light before games.
I have yet to process several hundred game images from the weekend.
Edit Tuesday (I have noticed on my mobile device, my photo slideshow is difficult to access, so here is the link.)
bf… Read the rest
---