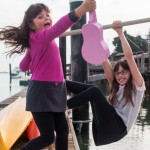 When I photographed the Tanner family last Sunday, the parents and two kids had just returned from a Hawaiian vacation. I have known Nicole since we both attended UC Santa Barbara (more than) a few years ago. Now we both live about three miles from each other in the Bay Area. While I was taking pictures, I kept thinking about the different definitions of the Hawaiian word "aloha." It means hello and good-bye and something in between. I think that also describes my relationship with Nicole and her family. We keep showing up for each other. I expect that it will always be that way… some cosmic Aloha.
Here is the slideshow again from the December 2014 photo visit.
Two years ago, I photographed the Tanners the first time shortly after they moved from the Central Coast. You can find the slideshow in the post.
Sometimes I think I am a good photographer.… Read the rest
---
---
---
---