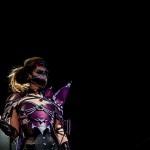 Hot Couture Runway Show 3 Photo Slideshow
Before an artist can fly, an artist must fight.
A good artist argues with him or herself.
Artists are their own collaborators, their own muse, their own liberators.
An artist's process is uneasy. Art is the fire, the wood and the shadow. Non-artists usually only see the final product. They miss the messy struggle.
At The Crucible's 15th Annual Hot Couture fashion show in Oakland, California, I photographed all three runway shows on Saturday January 11, 2014. The third show was more personal, because I know designer and dancer Alexandra Candia.
Alex teaches my two children how to dance. She also teaches my children how to perform and collaborate. She teaches them how to listen to their inner drummer; she teaches them to dance with a group. My daughter, who turns 10 next month, fought with Alex in the beginning. Both of my kids struggled, until they performed.… Read the rest
---
---
---
---
---
---
---
---
---
---
---
---
---
---
---
---
---
---
---
---
---
---
---
---