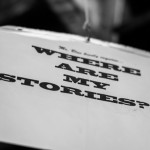 On Wednesday March 6, 2013, third graders from Oakland's Melrose Leadership Academy traveled to 826 Valencia in San Francisco.  MLA students attended 826 Valencia's interactive Screenplay program, which is similar to the popular Storytelling and Bookmaking program the students attended last year.
Photography Gallery of the Melrose Leadership Academy Field Trip to 826 Valencia Writing Center in San Francisco
On Tuesday, workshop leader Jami Johnson collaborated with Melrose students to create "The Stolen Ice Cream." Students practice their writing skills developing characters and story concepts. Before the students voted on their title, the students set the story, "Deep in space on planet Banana Split." With the "Setting" decided, students chose characters.
Characters were identified by protagonist  sidekick and antagonist. The students named these characters Agent Cheese, Agent Doggy and The Foot. For the story, the students learned how to add actions to the script. AGENT CHEESE (stamps his foot) …
Kavitha Lotun, who helped as the group's typist, encouraged the students to expand their story.… Read the rest
---