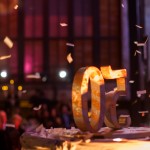 On Saturday November 7, 2015, I photographed Oakland Mayor Libby Schaaf's 50th Birthday Gala at the Old West Oakland Train Station. Mayor Schaaf celebrated her birthday by having a fundraiser for the East Bay College Fund. The 50th Oakland mayor raised money for 50 scholarships.
See my slideshow of the 113 year old building and the birthday gala.
Before I left my house, I read a Knute Rockne quote in Justine Gubar's book Fanaticus.
One man practicing sportsmanship is far better than a hundred teaching it.
 Knute Rockne, who was born in 1888, was a young man when the 16th Street Station opened in 1914. For Schaaf's birthday, I thought that I might repackage Rockne's quote and apply it to diversity.
One person practicing diversity is far better than one hundred people teaching it.
Even though the event was about diversity and education, it was more about "practicing diversity" than teaching it.… Read the rest
---