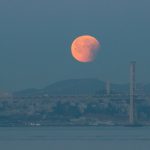 If you live in North America, you may have missed the total lunar eclipse last weekend. The eclipse was visible throughout the rest of the world and it was also the longest total eclipse of the century.
Six months ago, my children and I viewed a total lunar eclipse near our Bay Area home. We spent the night on the deck of the USS Hornet. The USS Hornet Sea, Air & Space Museum hosted a "Blue Moon, Super Moon and Lunar Eclipse" viewing party on January 30-31.
A "Blue Moon" and "Super Moon" might sound exciting, but the total lunar eclipse happened at night. It might not have been the longest eclipse of the century, but we still spent the entire night on the flight deck of an aircraft carrier in the San Francisco Bay. We were wet and cold and tired.
Most people slept underneath the deck or arrived in the middle of the night.… Read the rest
---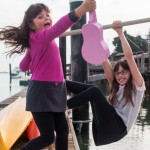 When I photographed the Tanner family last Sunday, the parents and two kids had just returned from a Hawaiian vacation. I have known Nicole since we both attended UC Santa Barbara (more than) a few years ago. Now we both live about three miles from each other in the Bay Area. While I was taking pictures, I kept thinking about the different definitions of the Hawaiian word "aloha." It means hello and good-bye and something in between. I think that also describes my relationship with Nicole and her family. We keep showing up for each other. I expect that it will always be that way… some cosmic Aloha.
Here is the slideshow again from the December 2014 photo visit.
Two years ago, I photographed the Tanners the first time shortly after they moved from the Central Coast. You can find the slideshow in the post.
Sometimes I think I am a good photographer.… Read the rest
---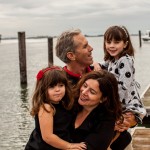 The last week, I have reconnected to my UC Santa Barbara past. In addition to visiting with a few former University of California Santa Barbara Gauchos, I attended the Cal-UCSB basketball game on the Berkeley campus. Before the game, the UCSB Alumni Association sponsored a Pre-Game reception.  On Saturday, I also photographed the Tanner family. The adults graduated from UCSB and recently moved to Alameda with their two daughters.
Nicole is a managing partner of Viva Strategy, a communications consulting firm for non-profits and philanthropic organizations. I have always appreciated Nicole. She is smart, kind and considerate. In the past, I would have spent more time talking to her…
but now she has two wonderful kids.
I brought my camera and my two kids. Everyone played.
Nicole also has a husband who bakes bread and watches football. After my wife arrived, everyone had something to do. My wife talked to Richard about baking.… Read the rest
---