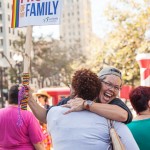 This recent Labor Day weekend, I took my kids and my camera to the Oakland Pride Parade. We walked with our Episcopal Church and several other religious groups. Many mayoral candidates, including Mayor Jean Quan, attended the parade. I took pictures. (HERE is my photo gallery!) While I was walking around before the parade, somebody asked my affiliation. Perhaps the person wanted to know if I worked for a publication or politician. I interpreted their question differently, "How did I become a member of a church group at a pride parade?"
Here is the oversimplified version:
I joined a political campaign, because a politician offended me by something she said in a church.
I joined a church because of something my candidate said while campaigning for Congress.
Yesterday was Labor Day. Besides being an official holiday, Labor Day Weekend is the unofficial last weekend of Summer. When I was a kid, Labor Day was the last day before school.… Read the rest
---