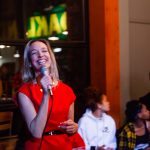 I was invited to Annie Campbell Washington's "Farewell Party" at the Old Kan Beer & Company. I brought my camera. Someone else brought the photo booth.
I took a few photos. I recommend viewing them as a slideshow.
Annie is not really going away. After thirteen years working for the City of Oakland, Annie is going back to Cal to work for the Goldman School of Public Policy.
Speaking from personal experience, I do not know if farewell means forever. I moved to Alameda a little over a year ago, and I haven't learned the ways of the Alameda Folks yet. I met my new mayor, Marilyn Ezzy Ashcraft, at Annie's event. I reminisced with my old mayor, Libby Schaaf, about the first time we met when she was a city council candidate knocking on my front door.
As I am still writing during the last hour of One Christmas Eve and forcing creativity between the space of inspiration and appropriation, I realize that it is sometime necessary to step away from something you love before you can return.… Read the rest
---