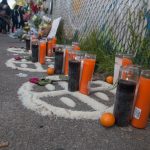 Updated December 29, 2016; originally posted December 9, 2016.
I have started writing at 11:25 pm. About this time one week ago, a fire started in a warehouse two miles from my home. Thirty six people died.
I visited the Ghost Ship Fire memorials in the Fruitvale District a few times this week. Even though I brought my camera, I felt more like a community member trying to make sense of the tragedy. For this post, I created a photo gallery. I also categorized the post in the journalism section, although I wonder if there is a better category.
I have photographed death and dying. This felt too close and too big.
Local, regional and national news organizations covered this story. In Oakland, the Ghost Ship Fire will remain an important story for many years.
I wonder how the young people will remember the fire. Will the young people become afraid to act or emboldened?… Read the rest
---