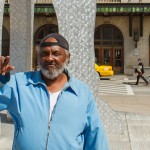 Just as I am about to lose faith, I meet someone like Tyrone.
I am in the Washington, D.C. Metro area for the 2012 National Walk for Epilepsy. Yesterday, I flew into Baltimore Washington International Airport.  I spent the night in Baltimore and took the MARC train this morning from Baltimore's Penn Station to Union Station. Since I visited Baltimore last year, Penn Station celebrated its 100 year anniversary.
While I was photographing Jonathan Borofsky's Male/Female aluminum sculpture in front of the train depot, a homeless man approached me.  We both saw an opportunity.
I probably over share. Sometimes this is a character flaw, but other times, I meet people with stories they want to share. Tyronne needed money, but he probably wanted me to take his photo even more. He wasn't begging for attention, but he appreciated the interaction. He appreciated the food and change too.… Read the rest
---