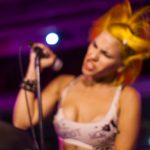 I haven't posted in a while, especially about music. I keep waiting for the right day, and since I pretend that I am not superstitious, today seems perfect. It's Friday the 13th. (and it's October)
For the last several months I have been receiving press emails about the female-led band Barb Wire Dolls. I went to the Tuesday show in San Francisco hoping that the band would be decent. I went to the Sacramento show the next day, because they were better than decent. (Most of) these photos are from the Sacramento show.
Photo Gallery for Barb Wire Dolls
Last month I photographed "YES", a band that was recently inducted into the Rock & Roll Hall of Fame. When I was younger, YES was one of my favorite bands. Their recent performance was excellent, but they lacked a new band's hunger.
The Rock & Roll Class of 2018 Nominees have been announced since I photographed YES.… Read the rest
---