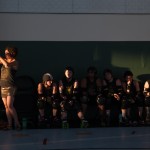 I am a roller derby photographer and my 2016 season started last Saturday. I usually photograph at The Craneway Pavilion in Richmond, California where light imitates art … or art imitates cupcakes. I forget.
I posted one gallery of the two evening bouts here.
Bay Area Derby created two "united teams" to compete against Sacramento's Sacred City Derby Girls and the Santa Cruz Derby Girls. My son was unsure which team to support, so he chose his team the same way he chose his cupcake. (He chose the blue one.)
Before the evening bouts, I took my children to the Rosie the Riveter WWII Home Front National Historical Park. We would have watched the junior derby "Golden Goblet" earlier in the day, but my son played his first baseball game Saturday and my daughter danced earlier that morning.
My kids enjoy derby as much for the community and competition as the cupcakes and cookies.… Read the rest
---
---
---
---
---
---
---
---
---
---
---
---
---