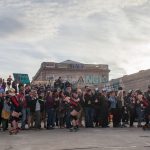 Bay Area Derby opened their regular season at the Old West Oakland Train Station ten days ago. The roller derby bout was held outside the abandoned train station on Saturday, March 18, 2017.
Here is the photo gallery from the season opener.
I have also photographed an event inside the 16th Street Station. On November 7, 2015, I photographed a fundraiser when Mayor Libby Schaaf celebrated her 50th birthday at the historic site. 
This year's season opener was historic because of the new venue, but the result was also unusual. San Francisco ShEvil Dead defeated the Oakland Outlaws 186-114. The ShEvil Dead victory equaled their win total from the three previous years.
The new venue seemed appropriate for roller derby. Old and new had found a place to interact and coexist. Nothing felt out of place.
When I watch derby on a foam surface, I forget that the sport is full of full contact.… Read the rest
---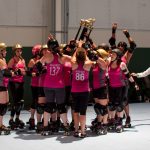 "If the Good Lord had intended us to walk, he wouldn't have invented roller skates." (from Willy Wonka and the Chocolate Factory)
On Saturday, two teams skated in circles and one team would be able to hold a trophy at the end of the bout.
Last year the Berkeley Resistance won. This year they won again.
Rocket Dog Rescue also attended the Bay Area Derby Championships. Rocket Dog Rescue attended two years ago. This leads other related questions. If God had wanted us to be alone, would he or she have created dogs? (Or if God had wanted dogs to be alone, would humans have been created?)
So, walk this way and view the two galleries from #BADchamps2016. I recommend that you play a Gene Wilder movie in the background.
Richmond v San Francisco 3rd Place
Since the Bay Area Derby championships, Gene Wilder died. The opening quote is from Willy Wonka, one of the first movies that I loved.… Read the rest
---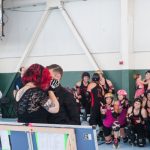 I almost did not photograph last weekend's Bay Area Derby Pride double header. I would have missed something special.
My derby photographs were not special, although I took a few decent action pictures somehow. There are two slideshows below the next two photographs.
In the second bout, Richmond Wrecking Belles defeated the San Francisco ShEvil Dead.
In the first bout, the Berkeley Resistance lost to the Oakland Outlaws.
A former skater coached the winning Oakland team, and an injured skater coached the other winning team.
Two contestants won the rainbow whip cream eating contest.
The bearded man was one of the winners. I have pictures to prove it.
After the first bout, the skaters gathered while a referee was honored. Then the rest of us were honored to be in the presence of something special.
bf
---