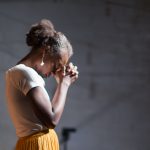 Two weeks ago, I photographed Echo Brown and "Black Virgins Are Not for Hipsters "at Oakland Tribe. I included this 34 image PHOTO GALLERY; the photos in the post are also in the gallery.
Originally, the November 27, 2016 performance was scheduled as Echo's final 2016 show; however, she has scheduled three more Oakland performances for December. Echo will also appear on KQED's Forum tomorrow with Michael Krasny at 10:00 am.
After I met Echo at an art education event a couple years ago, I have wanted to attend her one-person show. Our schedules never aligned until late last month. Even though she claims that she doesn't "have a background in theater," she intuitively understands performance. She is creative, energetic, funny and smart. She is engaging.
Echo may not have had formal theater training before she wrote her current play, but her journey prepared her for the stage. Echo has been code-switching since she was a young person.… Read the rest
---