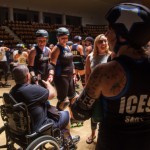 This post might turn out like my dinner tonight. I grilled a cheese sandwich with turkey, garden tomatoes and avocado. The sprouted bread fell apart, the crust became hard and the inside became mushy and cheesy. It tasted good, but I would not serve it to friends. While I rushed my dinner, I have spent several days trying to write this blog post.
I have yet to digest my emotions from last Saturday.
Before I attended Saturday's bout between the Santa Cruz Derby Girls Bombshells and the Bay Area Derby Girls Team Gold, I planned a simple post that included galleries from two previous bouts. I would discuss the community based organizations that the roller derby teams supported at recent events and I would mention how my children love attending roller derby too.
Then I met Bryan Stow.
I am a Dodger fan. I have loved the Dodgers since I was a little kid and moved to Fresno from the San Fernando Valley.… Read the rest
---