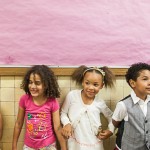 My two children attend Melrose Leadership Academy in Oakland, California. MLA is a Spanish dual immersion K-8 school. Our school is part of Oakland Unified School District. In previous years, I have posted more frequently about our school, but this year I have been busy teaching photography and yearbook at Pittsburg High School. Both school districts finish their year next week.  In this post, I will share a few events I photographed during 2014.
The first photos are from the 2014 Winter Performance Expo. The middle photos are from the 2014 Spring Academic Expo. The last few photos are from the 2014 Spring Performance Expo.
When I walk into the school, I "read" the signs on the wall. I see many of the signs when I am editing my photos. There is one sign that I seem to see more than any others. It reads, "Somos responsables de nosostros mismos y de nuestra comunidad."
We are responsible for ourselves and our community
I do not speak Spanish, but I can look at my pictures and see people caring for each other.… Read the rest
---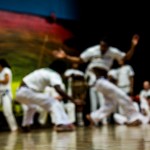 Yesterday was just another day at Melrose Leadership Academy… just another Saturday.
Professor Chipa and his capoeira students performed at Melrose Leadership Academy in Oakland, California for the "Batizado e Troca De Cordas." Melrose Leadership Academy is the Oakland Unified dual immersion elementary school that my children attend. Capoeira is a Brazilian martial art/ extreme dance activity.
My son loves capoeira. He loves the activity, excitement and his teacher. All the children enjoy learning how to improvise with people of different ages. The children develop new skills and more pride.
On Saturday, the children met well-known masters from different parts of the world. Professor Chipa's master Mestre Sebia from Brazil played with the students. Shortly after I took this photo, he told them that they were the best.
After the younger students performed, they received their new belts and medals. Many of the children returned to watch the older capeoiristas.… Read the rest
---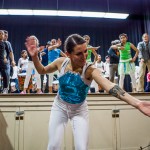 When parents toured Melrose Leadership Academy during the current school year, many asked about our after school program. Parents, grandparents and guardians asked if our students learned about different cultures. We were asked if our children were engaged and challenged. Most people wondered if there were enough physical activity.
Nobody asked if the parents were expected to dance at our twice annual Expos. Until Wednesday night, I am not sure if we had been and since I am scared to dance, I probably would have remembered. My daughter would have remembered, because she is scared to watch me dance.
When the older folks were too slow to move onto the stage, the younger people moved down onto the floor and we became more comfortable. (I think we enjoyed ourselves.) I often tell prospective families, Melrose Leadership is not for everyone. We are often pushed past our comfort zone into something magical.… Read the rest
---