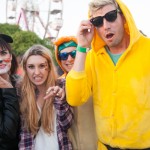 "The beauty that shimmers in the yellow afternoons of October, who could ever clutch it?" Ralph Waldo Emerson
I found the Emerson quote in the new National Geographic book Life in Color. I bought the book a few days before this year's Treasure Island Musical Festival. I photographed the two previous festivals and I was looking for inspiration. TIMF is a colorful festival and I needed expert photographers to explain color.
I attend this event with one of the vendors, so I do not shoot many of the musicians. When I attended the first time, I was disappointed, but I quickly realized that I was able to see the event better. This year, I took more than 700 pictures each day, which is not many considering how many musicians performed. You can see my edited pictures from 2014 day 1.
I spend most of my day with the artists at the Painted Wonderland body paint booth.… Read the rest
---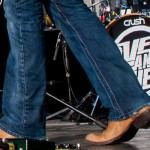 and the greatest of these is Love.
Ten days ago, my friend Chad Barth announced the lineup for 7th Annual Concert for Epilepsy. On New Year's Eve, country artists Craig Morgan and Love and Theft will perform at the National Building Museum in Washington, D.C.  Ten months ago was probably my worst New Year's Eve. Ever. In two months, I could have a much better start to the year.
I have had epilepsy for 29 years as of last month, and if my father had not committed suicide nine years ago, I might have never talked about having epilepsy. Having epilepsy was a bigger secret than my father shooting himself and mismanaging my grandmother's finances. I am still pretty awkward when discussing either topic, because there are not many role models. This leads to another scary realization — I am a role model. I wish there were many more people applying for the job, but in the valley of the problems that look like a nail… I am one of the few people who have a hammer.… Read the rest
---