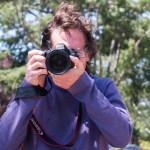 For the last seven seasons, my children and I have visited the same location for family portraits. We bring at least two cameras and take photos of each other. My daughter took the picture of me that might still be at the top called the "featured image." In 2010 I called this trip the "Farley Photo Pilgrimage." A high school friend and her children joined us the first year; another high school friend and his daughter joined us last year. The kids' mother joined us once or twice. Every year we visited the same meadow… until this year.
This year the meadow became a construction site.
We visited our new construction site on my birthday this year. It seemed appropriate to visit a construction site at the beginning of a new year since our family is being rebuilt. Families and meadows are constantly changing.
If you are interested, you can view more photos from the 2010 trip that ended with a visit to the doctor for stitches.… Read the rest
---