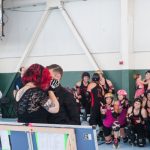 I almost did not photograph last weekend's Bay Area Derby Pride double header. I would have missed something special.
My derby photographs were not special, although I took a few decent action pictures somehow. There are two slideshows below the next two photographs.
In the second bout, Richmond Wrecking Belles defeated the San Francisco ShEvil Dead.
In the first bout, the Berkeley Resistance lost to the Oakland Outlaws.
A former skater coached the winning Oakland team, and an injured skater coached the other winning team.
Two contestants won the rainbow whip cream eating contest.
The bearded man was one of the winners. I have pictures to prove it.
After the first bout, the skaters gathered while a referee was honored. Then the rest of us were honored to be in the presence of something special.
bf
---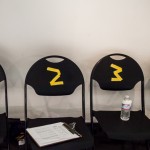 I am an official photographers for the [wb_fb_f name="bayareaderbygirls" id=""] . I have a camera, a press badge and a really cool derby name. (I am P Giddy.) One of my friends asked me how I lucked into this gig. I really do not know. I showed up one day after attending a bout. I think I will keep showing up until they tell me its time to leave.
The B.ay A.rea D.erby Girl Season Opener! was last weekend. I posted derby photos on my blog and my personal Facebook page, but many of my best photos were not seen. I combined two events into one post and the slideshows were inside the blog post. I am posting the derby photos again today so that more people can see more derby photos.
2014 Season Opener Berkeley vs San Francisco
2014 Season Opener Oakland vs Richmond
I posted the photo above of [wb_fb_f name="Ydot.Otter" id=""]  on my Facebook page.… Read the rest
---