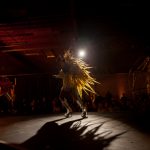 Last month I photographed the Hot Couture fashion show at Oakland's Crucible. The 2017 Hot Couture fashion show was inspired by the artist Prince and called "The Beautiful One's."
This is the fourth consecutive Hot Couture that I have photographed and I tried to be inspired by Prince. I created an 84 image photo gallery. Prince released the album and movie Purple Rain in 1984. "The Beautiful Ones" is a song on Purple Rain.
While "The Beautiful Ones" is not my favorite Prince song, it probably captures my feelings about him. The song captures the contradictions. He was an artist who was passionate. ("You were so hard to find") He was a passionate artist who yearned to "paint the perfect picture." He was like all the beautiful ones, "You always seem to lose." We lost him too early.
When Prince died, I lost something. One year ago today, Prince performed in Oakland.… Read the rest
---
---
---
---
---
---