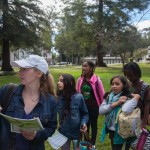 On a standardized test, what does a leader look like? How do you build standardized assessments that reward collaboration and creativity? If you wanted to identify the next Julia Morgan, would you rely on the SAT?
The two 5th grade pioneer classes from Melrose Leadership Academy visited Mills College in Oakland, California. Mills College is in our neighborhood, so the students walked to Mills. Melrose fifth graders are the architects who have built MLA into a model for urban education. This year, I photographed Ms. Jessica's 5th grade students during their neighborhood field trip to Mills. In April of 2012, I photographed the 2011-2012 kindergarten classes  for their expeditionary learning project at the campus creek. That was also our the last year that MLA was at the old Elizabeth Sherman site. The walk was shorter.
During both visits, students learned about native plants and the natural environments supported by a native ecosystem.… Read the rest
---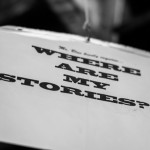 On Wednesday March 6, 2013, third graders from Oakland's Melrose Leadership Academy traveled to 826 Valencia in San Francisco.  MLA students attended 826 Valencia's interactive Screenplay program, which is similar to the popular Storytelling and Bookmaking program the students attended last year.
Photography Gallery of the Melrose Leadership Academy Field Trip to 826 Valencia Writing Center in San Francisco
On Tuesday, workshop leader Jami Johnson collaborated with Melrose students to create "The Stolen Ice Cream." Students practice their writing skills developing characters and story concepts. Before the students voted on their title, the students set the story, "Deep in space on planet Banana Split." With the "Setting" decided, students chose characters.
Characters were identified by protagonist  sidekick and antagonist. The students named these characters Agent Cheese, Agent Doggy and The Foot. For the story, the students learned how to add actions to the script. AGENT CHEESE (stamps his foot) …
Kavitha Lotun, who helped as the group's typist, encouraged the students to expand their story.… Read the rest
---