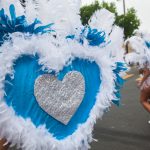 Carnaval San Francisco
On May 28th, 2017, I photographed the 39th Annual Carnaval San Francisco Grand Parade in the Mission District. The parade lineup included about 70 groups. I took about 1600 pictures. My final edited photo gallery has fewer pictures, but you should check for yourself.
2013
In 2013, 2014 and (again in 2015), I photographed the parade route; my children were with the Fogo Na Roupa contingent.
This year I photographed the entire parade… or as much of the parade as I could. Because I spent the previous parades with one crew, I did not realize that groups lined up on both sides of 24th.
Before the parade started, groups line up for several blocks in each direction fixing their costumes and practicing their routines.
This year's theme is "El Corazón de San Pancho/The Heart of San Francisco." The theme underscores how the city welcomes people.… Read the rest
---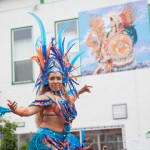 I attended the 37th annual San Francisco Carnaval Parade on Sunday May 24, 2015. This was the third consecutive year that I have attended as part of the Fogo Na Roupa contingent. I am allowed to walk the parade route with my camera, because my eleven year old daughter dances. I took some photos again this year.
There were more than sixty groups participating this year. We arrived about two hours before the parade started so that we could park and find our spot.
I probably enjoy the parade preparation more than the actual parade. Photographers and groups mingle with each other. The dancers rehearse and complete their costumes.
Some participants finalize their floats.
Once the parade began this year, I still enjoyed myself. It's Carnaval.
Even the dogs are friendly.
People of many different ages and appearances participate at Carnaval. Carnaval provides a positive experience for many body types and abilities.… Read the rest
---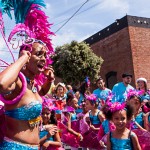 Sometimes a little guitar is just a little guitar.
The 2013 Carnaval San Francisco was held yesterday in the Mission District. It was the 35th annual San Francisco Carnaval. My two children danced with a popular Bay Area group Fogo na Roupa.  My children and others from their Oakland school have been practicing this year for Carnaval, but I did not realize that the kids were joining such a fun group.
We arrived around 8:15 and met performers from other groups. (We were float 44 of 48).
We prepared and waited for about three hours, but we had a great time. Everyone dressed. Some people put on make up… almost everyone applied sunscreen (except me.)
After we started walking six blocks to the start of the parade, one of the organizers ordered us to run… so we did. Well, I stopped first to photograph everyone running. (I should have applied sunscreen.)
When we joined the parade route on 24th, I understood why people return every year for Carnaval.… Read the rest
---