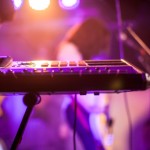 On Wednesday, I drove into San Francisco to see Nina Diaz perform at the DNA Lounge. I photographed Nina Diaz and her band Girl in a Coma two years ago in Oakland. (You can revisit my earlier review and photos.) When I saw her in Oakland, I wondered if Nina might become a superstar. Now I am wondering if it matters. Nina seems focused on bigger things… Nina seems happy.
I still question why Nina is not more popular. Is it because she is a woman? Is it because she is a woman of color? Is it because she had an addiction problem? None of these issues disqualify some artists. When she takes the stage, Nina becomes electric. She impressed me off-stage too. I brought my eleven year old daughter to the all-ages show; Nina visited with us. Nina was self deprecating. At one point, Nina said that she was part of "the lazy generation." (Nina was sweating before the first song ended and on the road to El Paso after the concert for her next show.) I also watched Nina interact with other guests, musicians and friends. … Read the rest
---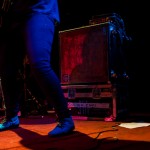 Sometimes it feels that God is smiling on me. Monday was one of those times.
When I photographed Girl In a Coma on Monday, everything seemed perfect. (Go here to view the photo gallery of their Oakland Concert)  I learned about the performance the day of the show from a friend who lives out of the country. Another friend helped with an introduction. GIAC is also from San Antonio and I have a special connection to the city. Joan Jett signed the band to her Blackheart Records label. I love Joan Jett. (Lately, I have chased a few black hearts.) I needed a new roller derby photographer shirt for tomorrow. My GIAC T-shirt is covered with black hearts, lucky numbers and horseshoes. Oh, and the band was amazing. One day my friends (or kids) might ask me if I have ever heard of this new band Girl In a Coma with the mesmerizing lead vocalist/ lead guitarist…
They are THAT good.  … Read the rest
---