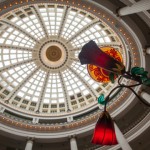 Last weekend I photographed the 2015 Girls Inc of Alameda County Taste Event. You can view my final photo gallery of 161 photos and you can scroll through this post and preview several of the images from the event in downtown Oakland.
I photographed the 2014 Taste fundraiser last year too. It was also at the Rotunda. I have included the blog post. I am also including the photo gallery. Last year, the event started at the Girls Inc's Simpson Center across the street from the Rotunda.
I did not taste much of the food this year, but I photographed the preparation. I hope I captured the excitement on both sides of the curtain.
The auctioneer was excellent again this year. When I was in high school, my mother worked for an auction house, so I know the rhythm of a good auction. This experience probably helps me photograph an auctioneer, especially when there is a good one.… Read the rest
---