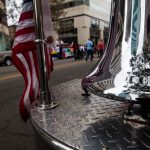 What do we remember when we say that we will "never forget?"
I spent the 15 year anniversary of the September 11th attacks at the Oakland Pride Parade. I found my church (and then lost them) and then joined the denomination that baptized me as a baby (the Methodists). I did not want to be alone this 9/11.
While many Americans will never forget 9/11, most Americans did not know someone who died on 9/11. I knew Mark Bingham, one of the passengers on Flight 93. Mark was an incredible man who has become an American icon and symbol for the LGBT community.
I met Mark shortly after I moved to the Bay Area. Mark organized a weekly football game at Golden Gate Park in San Francisco. Five years ago, I wrote more about how we knew each other.  He was one of the best athletes and one of the best leaders I have known.… Read the rest
---