The McClymonds High School Warriors won their first state football championship on December 17, 2016. On Friday January 6, 2017, Oakland celebrated at City Hall and West Oakland.
I attended their last playoff game with my son and his friend. (McClymonds lost to Sacred Heart Prep in the Northern California final on 12/12/15.) I also photographed one of their home games the previous year. (My post with photos was called, "Back at Mack to Pay it Back.")
Even though I did not attend any games this year, I have been to Mack many times. I brought my daughter to the parade. When she was younger, her track team competed at Mack. My friends have worked at the school. If my life had turned out differently, I would have taught at Mack during this year's state championship season.
McClymonds is called "The School of Champions." Coincidentally, I attended a high school in Fresno that was also "The School of Champions." Fresno High are also Warriors.… Read the rest
---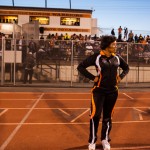 Have you heard the expression Pay it Forward? In the right context, it is actually a nice idea. People deposit acts of kindness into a karma bank, and somehow the universe knows when we need a return favor. Sometimes I "Pay it Forward," but I did not visit McClymonds High School on September 12, 2014 to Pay it Forward. I am a sports fan who loves history. I will never be able to pay back the McClymonds community for their contributions to sports, art, and civil rights.
When I arrived at McClymonds High School in Oakland to photograph the game between the McClymonds High Warriors and the Selesian High Pride from Richmond, I found my friend Coach Joe Cokes. Joe was one of the coaches when my daughter ran track. Coach Joe and I visited the locker room and started taking pictures. Here are my photographs.
I have been inside McClymonds several times and each time I am intimidated, and not because of the location, but by the history.… Read the rest
---