The McClymonds High School Warriors won their first state football championship on December 17, 2016. On Friday January 6, 2017, Oakland celebrated at City Hall and West Oakland.
I attended their last playoff game with my son and his friend. (McClymonds lost to Sacred Heart Prep in the Northern California final on 12/12/15.) I also photographed one of their home games the previous year. (My post with photos was called, "Back at Mack to Pay it Back.")
Even though I did not attend any games this year, I have been to Mack many times. I brought my daughter to the parade. When she was younger, her track team competed at Mack. My friends have worked at the school. If my life had turned out differently, I would have taught at Mack during this year's state championship season.
McClymonds is called "The School of Champions." Coincidentally, I attended a high school in Fresno that was also "The School of Champions." Fresno High are also Warriors.… Read the rest
---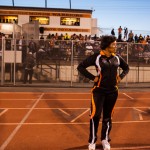 Have you heard the expression Pay it Forward? In the right context, it is actually a nice idea. People deposit acts of kindness into a karma bank, and somehow the universe knows when we need a return favor. Sometimes I "Pay it Forward," but I did not visit McClymonds High School on September 12, 2014 to Pay it Forward. I am a sports fan who loves history. I will never be able to pay back the McClymonds community for their contributions to sports, art, and civil rights.
When I arrived at McClymonds High School in Oakland to photograph the game between the McClymonds High Warriors and the Selesian High Pride from Richmond, I found my friend Coach Joe Cokes. Joe was one of the coaches when my daughter ran track. Coach Joe and I visited the locker room and started taking pictures. Here are my photographs.
I have been inside McClymonds several times and each time I am intimidated, and not because of the location, but by the history.… Read the rest
---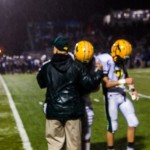 Two years ago, I taught multimedia at San Marin High School in Novato, California. I love teaching and I loved the San Marin community. I was especially fortunate that the year I worked at San Marin, the boys basketball team won its first NCS Section Championship in school history and the baseball team shared a section title. (The shared baseball championship might be the only one in California history.)
Some of my former students play on this year's San Marin High School football team. The Mustangs started the season slowly. When the playoffs began, the team started winning. On Friday, the football team almost won the school's first North Coast Section football title.
Almost.
(A Link to the entire photo gallery is here)
Instead, the Justin-Siena Braves defeated the San Marin High Mustangs 27-13 to win the 2012 North Coast Section Division 4 Football Championship at Dodd Stadium in Napa, California.… Read the rest
---