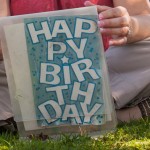 Last night my friend Martha Tessmer appeared on the national NBC Nightly news. Five years ago, Martha would not have imagined herself as a national figure. She was happy living as an educator, wife and mother to two children.
Now, Martha saves lives by sharing her son Donovan's story for Impact Teen Drivers. Donovan died in a distracted driving accident in Madera, California the summer before his senior year in high school. For the last three years, I have been photographing Martha and the support group she founded. More recently, I have followed her with the Impact Teen Drivers and the National Safety Council.
Martha and her support group, Mother of an Angels Friendship Network, have impacted my life more than I have affected their lives. Even if I could measure my impact, I would feel uncomfortable claiming any success. Parents have lost children and I have documented how the community supports each other.… Read the rest
---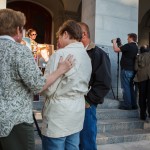 How should journalists cover traffic accidents? Should journalists cover every aspect of a murder trial as if it were a sporting event? What is the impact on families each time journalists trivialize tragedy? How can journalists tell richer stories without becoming lost? After several years photographing families whose children have died, I am still asking the questions. I included the photo gallery from Monday's press conference for further discussion.
Imapct Teen Drivers asks teens and adults to drive safer, but the organization does something more complicated.  The organization recognizes the humanity of  law enforcement officers while supporting grieving families. Both themes are difficult for journalists to cover. Impact Teen Drivers also acknowledges that distracted driving accidents affect an entire community. Journalists are part of the community too.… Read the rest
---