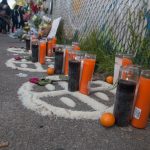 Updated December 29, 2016; originally posted December 9, 2016.
I have started writing at 11:25 pm. About this time one week ago, a fire started in a warehouse two miles from my home. Thirty six people died.
I visited the Ghost Ship Fire memorials in the Fruitvale District a few times this week. Even though I brought my camera, I felt more like a community member trying to make sense of the tragedy. For this post, I created a photo gallery. I also categorized the post in the journalism section, although I wonder if there is a better category.
I have photographed death and dying. This felt too close and too big.
Local, regional and national news organizations covered this story. In Oakland, the Ghost Ship Fire will remain an important story for many years.
I wonder how the young people will remember the fire. Will the young people become afraid to act or emboldened?… Read the rest
---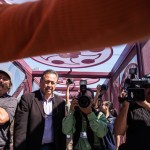 Two years ago I took an image that I consider my "most important photograph." Even though I consider it my most important, it was not the best picture taken with my camera that day. While I consider photography important, I did something more important than take pictures that day. I handed my camera to a boy while we walked on a bridge.
Two years ago, I wrote about Xander's Crossing. The bridge connects me to a support group for mothers whose children have died. After my father had committed suicide, I chose to help people who were isolated, and somehow I found myself on this bridge two years ago.
I was also a journalism educator. I knew that journalists were taught to keep their distance when covering stories. I also knew that some training conflicted with the goals of journalism. First, journalists who "kept their distance" were most often the same journalists who invaded families' personal space.… Read the rest
---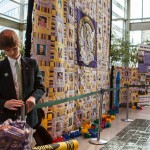 Student press supporters often claim that students "do not shed their constitutional rights to freedom of speech or expression at the schoolhouse gate." At a recent national journalism education conference, I noticed a different version of this quote. Outside the schoolhose gate, students express themselves too.
Fourteen year old Malcolm Sutherland-Foggio, started a non-profit for pediatric cancer research after Malcolm watched his friends die next to him in the hospital. Malcolm and his mother brought the national angel quilt to Seattle, and coincidentally, were stationed at the Washington State Convention and Trade Center. The journalism students and educators from JEA/NSPA  would pass his table several times each day.
During the convention, I met with students from the Carlsbad High School Lancer Link. These students somehow operate inside the school gates with readers throughout the world. I was familiar with the publication before the teacher asked me to critique the publication.… Read the rest
---