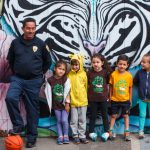 This is the first school year that one of my children have not attended Melrose Leadership Academy since the school began it's dual immersion program in 2009. I have been taking pictures of the school before my kids started attending.
During the first year of the dual immersion program, my daughter was a kindergarten student. I began photographing all the kindergarteners. When my son started at MLA, I continued photographing the kindergarten class.
When the school moved to the new site, I kept taking pictures. After my kids left the school, I did not know what to do. Eventually, I decided that I would continue. My kids may have left the school, but I will always feel connected.
This year, Harold Lowe helped me when I photographed the kindergarten class. Harold has three children at MLA. Harold and I have become friends; our children are friends too. To view the gallery from this year, click the link.… Read the rest
---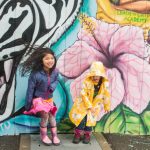 This is the eighth year that I have photographed the Melrose Leadership Academy dual immersion kindergarten students. I have photographed every kindergarten class since MLA introduced the Spanish bilingual program. My daughter was in the first class; my son started two years later. I have also photographed other activities, often as the Historian. (See the MLA Collection of Galleries.)
MLA is an OUSD district school. We have created something special in a place where failure is expected. If I did not have my pictures, I would question whether we ever built the school. Some days, I still wonder if I am hallucinating.
One of my mentors, Jim McNay, recently sent me an article about long-term projects from the Magnum Photo Agency site. The authors provide "Five lessons in developing and sustaining a long-term photographic project." The first lesson: have a mission statement. Why is this story important?… Read the rest
---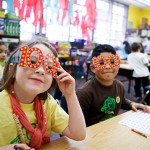 When Melrose Leadership Academy students walk into kindergarten on the first day of school, teachers talk Spanish about 90% of the day. For the first few months, some students are confused, but quickly students acquire language. Perhaps because of our school's success, our community ignores that our students also learn other subjects. Melrose Leadership students must learn the same content standards as other public school students.
The one hundredth day of the school year is one example where students learn an important number sense math lesson. This year, my second child has participated in the ritual. Students enjoy playing with the different items. Some students eat Cheerios or wear noodle necklaces. All the students learn about the number 100, whether it is one hundred or cien.
Another important note: While this blog post is dated February 13, I publised it two weeks later on February 27.… Read the rest
---