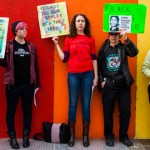 One month ago today, Libby Schaaf became Oakland's 50th mayor. The Inauguration Ceremony was pure Oakland. She rode into office in a Burning Man snail car; she was met at the Paramount Theater by sharp dressed protesters and journalists. (I would like to think that I was both a sharp dressed protester and a journalist, but those days have probably passed me by.)
When I photographed the Inauguration Ceremony, I felt "cautiously ambivalent." There was an odd tension between the protesters and the newly elected officials. The elected officials were probably more optimistic. They invited their children and parents onstage during their speeches. Inauguration day is full of hope. (Did the new board members realize that they had become part of The Establishment?)
I could have photographed the protesters all day. The heightened tension combined with intense visual imagery. The bright colorful walls and stoicism emphasized contradictions. (Additionally, one recently re-elected city council member appeared to protest her own inauguration.)
Desley Brooks is now my Oakland City Council person after recent redistricting. … Read the rest
---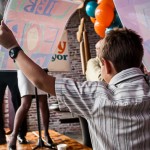 On Saturday March 1, I attended two season openers. One was a campaign and the other was a sporting event. There is probably a cheap joke here, but neither event felt cheap.
In the morning, I attended Libby Schaaf's "Libby for Mayor Oakland Campaign Kickoff." (I took a few hundred pictures; here is the edited photo gallery.) In the evening, I photographed the Bay Area Derby Girls Season Opener. The events felt similar. There was music. There were people from different ages and backgrounds. Young people held signs. Older people cheered. Everyone seemed committed. Positive.
As someone who pretends to be a journalist, I do not officially endorse anyone, but I support many people and causes. I support Libby. Before she was elected to City Council, she supported my kids and neighbors. I support people who help my kids and neighbors.
People at derby support me and my kids.… Read the rest
---