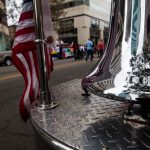 What do we remember when we say that we will "never forget?"
I spent the 15 year anniversary of the September 11th attacks at the Oakland Pride Parade. I found my church (and then lost them) and then joined the denomination that baptized me as a baby (the Methodists). I did not want to be alone this 9/11.
While many Americans will never forget 9/11, most Americans did not know someone who died on 9/11. I knew Mark Bingham, one of the passengers on Flight 93. Mark was an incredible man who has become an American icon and symbol for the LGBT community.
I met Mark shortly after I moved to the Bay Area. Mark organized a weekly football game at Golden Gate Park in San Francisco. Five years ago, I wrote more about how we knew each other.  He was one of the best athletes and one of the best leaders I have known.… Read the rest
---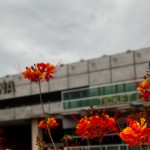 I would do anything for love (but I won't do that) – Meat Loaf (1993)
Links to photo galleries included at the end
I almost did not attend the 2015 D1 WFTDA International Roller Derby Tournament in Tucson, Arizona last weekend. Even though I love roller derby, I was scared. At the beginning of September I visited my neurologist after listening to another Oliver Sacks interview. I suspected that I had prosopagnosia (face blindness). I thought that I was losing my mind and I was afraid to spend three days in the desert meeting (and re-meeting) people, but I couldn't let my fear stop me.
I remember people. I just do not remember their faces. I remember Joy Collision when she skated at the 2012 Western Division Regional Tournament. (she is pictured above greeting friends). I remember that her number (747) is the same as a jet. I know that Joy Division became New Order after the lead singer committed suicide and I know that Joy looks like the person who sells avocados at my local farmer's market (though I am probably wrong about this last one). … Read the rest
---