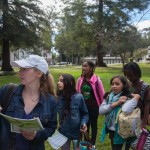 On a standardized test, what does a leader look like? How do you build standardized assessments that reward collaboration and creativity? If you wanted to identify the next Julia Morgan, would you rely on the SAT?
The two 5th grade pioneer classes from Melrose Leadership Academy visited Mills College in Oakland, California. Mills College is in our neighborhood, so the students walked to Mills. Melrose fifth graders are the architects who have built MLA into a model for urban education. This year, I photographed Ms. Jessica's 5th grade students during their neighborhood field trip to Mills. In April of 2012, I photographed the 2011-2012 kindergarten classes  for their expeditionary learning project at the campus creek. That was also our the last year that MLA was at the old Elizabeth Sherman site. The walk was shorter.
During both visits, students learned about native plants and the natural environments supported by a native ecosystem.… Read the rest
---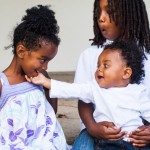 Last month I started teaching photography at Pittsburg High School in Pittsburg, California. I love teaching, but I miss being a photographer. Fortunately, I was able to be a photographer last weekend when a friend asked me to photograph her family. We met at Mills College in Oakland, California for a portrait session with her husband and three children.
When Libertad (Libby) Rivera asked me if I were still available to take family portraits, I had just started my new teaching position. At the time, I did not realize that I needed to take pictures more than Libby needed to have her picture taken.  I did not need the money. I needed to know that I could still take a decent picture.
Sometimes I know if I have taken a good picture before I see it on my monitor. Last Sunday, I did not know if I had any good pictures, but as soon as I saw the first photograph uploaded to my screen I felt alright.… Read the rest
---