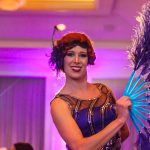 Show me a hero, and I'll write you a tragedy – F. Scott Fitzgerald
The Epilepsy Foundation of Northern California held their annual gala at San Francisco's Four Seasons Hotel on Saturday, November 10, 2018. It was a 1920's themed event with dinner, dancing, auction and speakers. The fundraiser was pretty good, but it left me "feeling so Gatsby."


While I understand the desire to go back to a more simple time like the Roaring 20's, these events erase history and devalue my experience. In the 1920's, we were sent to our own colonies or asylums, (the colonies were for the "epileptic insane"). Laws restricted marriage for people with epilepsy. The EEG was not "discovered" until 1929. Hitler would soon begin experimenting on those of us with epilepsy.
If we are going to play make believe, could we at least go back to the era of "the sacred disease" when a son of Zeus became a hero?
…
Read the rest
---
This post is part of the Epilepsy Blog Relay™ which will run from November 1 through November 30. Follow along and add comments to posts that inspire you. (View my photos from the recent EFNC Gala if you wish too.)
Last weekend when I was photographing the 2015 Epilepsy Foundation of Northern California Gala at the Fairmont San Francisco, I considered this week's topic about Epilepsy and Creativity. Those of us with epilepsy are often asked about epilepsy and creativity. Does epilepsy make us more creative? Less creative? Is art therapeutic?
As with most things epilepsy, I think it depends on the definition… and who is doing the defining.
I am 1 of 26 Americans living with epilepsy. As an artist with epilepsy, I think about creativity often. As a person with epilepsy, I may also think about creativity differently than many artists.
Having epilepsy has forced me to be creative.… Read the rest
---