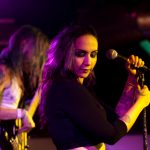 I photographed Nina Diaz one week ago in San Francisco at the DNA Lounge. It was the third time I have photographed Nina. The first time I photographed Nina, she was with her band Girl in a Coma.  Last year, I photographed her when she performed as a solo artist.
This time she was touring ahead of her new solo album, The Beat is Dead. The album will be available October 28. A new single, titled "January 9th" is available now. "January 9th" was inspired by the loss of her grandmother fifteen years earlier. At the time of this post, the single can be heard on Nina's site.
In the other two posts, I have written enthusiastically about Nina. My opinion has not changed. She is talented and charismatic.
She has been performing since she was 13. Most of that time was with her old band. With her new band, she does not need to play guitar (though she still does).… Read the rest
---