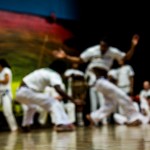 Yesterday was just another day at Melrose Leadership Academy… just another Saturday.
Professor Chipa and his capoeira students performed at Melrose Leadership Academy in Oakland, California for the "Batizado e Troca De Cordas." Melrose Leadership Academy is the Oakland Unified dual immersion elementary school that my children attend. Capoeira is a Brazilian martial art/ extreme dance activity.
My son loves capoeira. He loves the activity, excitement and his teacher. All the children enjoy learning how to improvise with people of different ages. The children develop new skills and more pride.
On Saturday, the children met well-known masters from different parts of the world. Professor Chipa's master Mestre Sebia from Brazil played with the students. Shortly after I took this photo, he told them that they were the best.
After the younger students performed, they received their new belts and medals. Many of the children returned to watch the older capeoiristas.… Read the rest
---
---
---
---