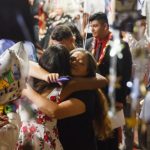 In 2009, the first two classes of Melrose Leadership Academy dual immersion kindergarten students started school. Last month, the first two classes of 8th grade MLA dual immersion students finished middle school. I photographed the June 7, 2018 promotion ceremony and a celebration dinner the day earlier.
When we started at the school, we could only imagine the first 8th graduation class. Now, these students are part of the school's legacy. I have included photos from the first kindergarten graduation as well as photo galleries from the Promotion Ceremony and 8th Grade Party.
I have collected nearly 100 photography galleries in my MLA Photography Collection. I started photographing some of the graduating Melrose Leadership Academy students when they were still in pre-school. My daughter was part of the first kindergarten class; my son started two years later. My children did not finish at MLA, but they are also part of the legacy.… Read the rest
---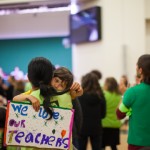 The last time I attended an Oakland Unified School Board meeting, I taught at an OUSD elementary school. I was an active Oakland Education Association (OEA) union member. People read newspapers. Nobody had a Facebook profile. Board meetings were held in the old district office, but everything else felt oddly familiar.
If anyone is interested, they could probably find an old Oakland Tribune article titled "The Classroom Shuffle." A reporter learned about classroom consolidation and how it disrupts entire schools six weeks into the school year. Consolidation almost always occurred at low-income/ low-performing schools. It was like a Twilight Zone episode. I could not continue teaching for a district that allowed consolidation to continue. One night I was called by someone who I believe tried to warn me. He told me that if I kept exposing the situation I would lose my job. I kept exposing. I lost my job. Was it related?… Read the rest
---