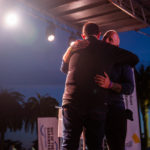 I have been thinking about this post for weeks, and I have wanted to write something organized and transformative about suicide, but sometimes life and stories don't work that way.
Earlier this month I attended the American Foundation for Suicide Prevention Out of the Darkness Overnight Walk in San Francisco. I volunteered to photograph the event this time. Three years ago I walked with my two children.
I don't know if the camera helps me connect or if it keeps me isolated.
There are two national walks each year. This year the walks were in San Francisco and Boston. Father's Day was on the weekend between the two walks. I lost my father to suicide the year I became a father. The last several weeks, I thought about him often, and I thought about what it means to be a father..
I was surprised this year that I struggled. I struggled to write.… Read the rest
---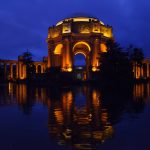 The 2018 Bay Area Derby roller derby season started this Spring with two bouts at San Francisco's  Palace of Fine Arts. I photographed a bout in March and another in April.
This is the first season that Bay Area Derby has skated at the Palace of Fine Arts. BAD changed their teams, uniforms, and regular season home. The Palace of Fine Arts was originally built for the 1915 World's Fair. It is one of the few remaining structures; it is definitely the most recognizable.
I have been photographing roller derby since 2011. Sometimes I wonder if I have been doing this too long, but I felt younger next to some of the structures at the Palace of Fine Arts.
My fourteen year old daughter attended the first bout between San Francisco and Berkeley. When she first started watching derby, she liked the vendors. Now she is looking for the opportunity to join a team.… Read the rest
---