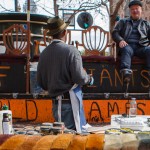 Kenny has been shining shoes in downtown San Francisco for more than thirty years.
Famous Wayne Shoe Shine is "world famous." Famous Wayne lives across the San Francisco Bay in Oakland, California and commutes into the city. I had my shoes shined during a Society for Photographic Education conference. The SPE national conference was in San Francisco this year, but I did not travel far to attend. I live in Oakland, the same town as Famous Wayne.
Tomorrow I am flying to Seattle, Washington for the Journalism Education Association  and National Scholastic Press Assocation national conference. I will present a new workshop about photo stories with Dave LaBelle. I might use slideshow photos I took of Famous Wayne to generate conversation.
How do you read a photo? What photo is the best first image for the story? Where does the story start?
Where does this story end? What images are missing?… Read the rest
---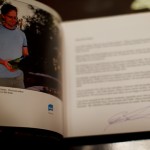 2011 was a productive year. I told meaningful stories and affected lives. One of my projects was the Mother of Angel Friendship Network. In February, a magazine published my article and photo essay about the support group organized by mothers who have lost children to death. It is a subject that is often ignored, and the article has helped more people find support and comfort.
I continued my personal project with the mothers' group during the year. In August, I used Blurb's new ProLine paper to self publish an excellent book. Combining my experience, the subject matter, and the new Blurb product, this is probably my best book. To see my collection of Mother of Angel photos, visit my gallery collection.
I am grateful to these families for allowing me into their life. I wish I could offer more than my words, pictures, and friendship.… Read the rest
---