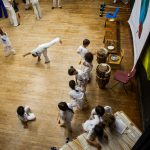 Last month, Ginga Mundo Capoeira Oakland held their fourth annual Festival da Caopeira. The three day event includes sessions for youth at Melrose Leadership Academy in Oakland, California. (MLA is my children's elementary school.) My fifth grade son has attended all four. The first festa da capoeira was held in December 2013; the last three have occurred in May.
Until my children began capoeira, I was unfamiliar with it. I did not appreciate capoeira's history nor the dedication of the capoeira community. Because I had not seen capoeira, I did not appreciate the complex lessons my son would learn.
Capoeira is inter-generational and participatory. Younger students learn from older masters and professors. Many of the teachers travel from other states or other countries to share their knowledge. Knowledge is valued… the sharing of knowledge is valued.
Young students learn how to share their knowledge with other younger students.… Read the rest
---