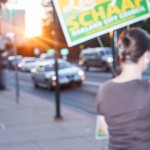 Tuesday June 5, 2012 was election day in California. The last time there was a California Presidential Primary, President Obama and Hilary Clinton competed for the Democrat nomination.  Clinton won California. McCain defeated Romney. In 2008, California held its primary on February 5.
In November 2008, Obama won California and the presidency. The same day that Americans elected the first African-American President, Californians passed Proposition 8 banning same sex marriage. Many Californians who voted for Obama mourned the initiative's passing.
On Tuesday, the 9th Circuit Federal Court of Appeals declined to hear the most recent appeal, overturning Prop 8. The United States Supreme Court is the last remaining court to hear a challenge. Prop 8 forced some people into democracy. The 2008 Presidential race also excited voters. In our neighborhood, neighbors stood on street corners arguing for both sides of Prop 8. People placed signs in their windows and on their lawn.… Read the rest
---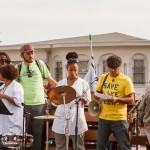 As a former Oakland school teacher with two children in the Oakland public school system, I can sympathize with the families who protested on May Day. Five OUSD schools will close next year; communities will be displaced. Children will be forced to attend different schools. If our Spanish immersion public school were closing, I would be protesting too. Instead, Melrose Leadership Academy is moving into one of the "closed" schools and a charter school is moving into our current site.  MLA is moving to Maxwell Park Elementary and The Urban Montessori School will move into our current building.
Urban school districts must balance many unfair choices. School closures seem especially unfair since the disruptions will ripple  throughout the district for years.
Protesters cause disruptions, sometimes unintentionally. As the photo above illustrates, disruptions create confusing messages. To the left, a person looks into the trash while a man blocks the word "Fe, leaving the message "Save Santa." In March, some protesters disrupted a school board meeting, but their message confused potential supporters.  The disruption affected our school also, postponing our new parent orientation and other planning for our eventual move.… Read the rest
---