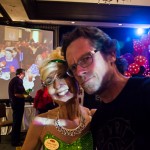 So, today is the 10 year anniversary of the day my father committed suicide. I was going to write a very dramatic blog post about how tragedy has visited my life too often and my life was unfair, but a funny thing happened on the way to this ten year anniversary. I started to see my life differently.
If life is unfair, I have the advantage, at least for today.
Since I met Brad Paisley two weeks ago, Robin Williams committed suicide. Williams was 63, the same age that my father was when he committed suicide. On August 14, 2014, Paul McCartney played the last concert at Candlestick Park in San Francisco.  Tonight I danced with a kind woman from the Havin' Fun Bunch. I returned from photographing roller derby just in time to hear the song, "When I'm 64." The Havin' Fun Bunch had a Disney themed party this year. Every year their mission is to have fun.… Read the rest
---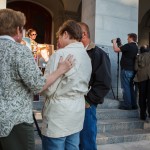 How should journalists cover traffic accidents? Should journalists cover every aspect of a murder trial as if it were a sporting event? What is the impact on families each time journalists trivialize tragedy? How can journalists tell richer stories without becoming lost? After several years photographing families whose children have died, I am still asking the questions. I included the photo gallery from Monday's press conference for further discussion.
Imapct Teen Drivers asks teens and adults to drive safer, but the organization does something more complicated.  The organization recognizes the humanity of  law enforcement officers while supporting grieving families. Both themes are difficult for journalists to cover. Impact Teen Drivers also acknowledges that distracted driving accidents affect an entire community. Journalists are part of the community too.… Read the rest
---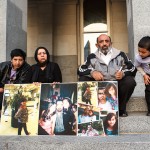 I live in Oakland, California. Depending on traffic, Oakland is about thirty minutes from Concord, California. On Saturday April 7, I was listening to the news when I heard that a Concord family was beginning a horrible journey that started when a teenager lost control of his Cadillac Escalade. The father, Solaiman Nuri, had taken his two daughters for a bicycle ride. Both daughters were hit. Solaiman and his nine year old were killed. One daughter survived. Solaiman Nuri and I are about the same age. I have an eight year old daughter. It was easier to imagine that something similar could happen to my family simply because I was being a good father.
Solaiman Nuri was an excellent father. His daughter was happy. She left behind a mother, a sister, and a large loving family. Many of them attended the vigil in Sacramento, California.
Impact Teen Drivers honors those affected by distracted driving, such as the Nuri family.… Read the rest
---