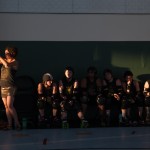 I am a roller derby photographer and my 2016 season started last Saturday. I usually photograph at The Craneway Pavilion in Richmond, California where light imitates art … or art imitates cupcakes. I forget.
I posted one gallery of the two evening bouts here.
Bay Area Derby created two "united teams" to compete against Sacramento's Sacred City Derby Girls and the Santa Cruz Derby Girls. My son was unsure which team to support, so he chose his team the same way he chose his cupcake. (He chose the blue one.)
Before the evening bouts, I took my children to the Rosie the Riveter WWII Home Front National Historical Park. We would have watched the junior derby "Golden Goblet" earlier in the day, but my son played his first baseball game Saturday and my daughter danced earlier that morning.
My kids enjoy derby as much for the community and competition as the cupcakes and cookies.… Read the rest
---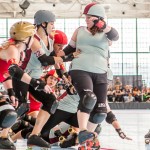 When I fell in love with women's flat track derby, I was already a fan. Derby answered a nagging question… or rather, derby helped me answer all those people at UC Santa Barbara who nagged me with the question, "So, what is a man gonna do with a BA in Women's Studies?" This man is gonna listen to Joan Jett, drink a beer, eat a vegetarian tamale, and watch women skate around in a circle and hit each other.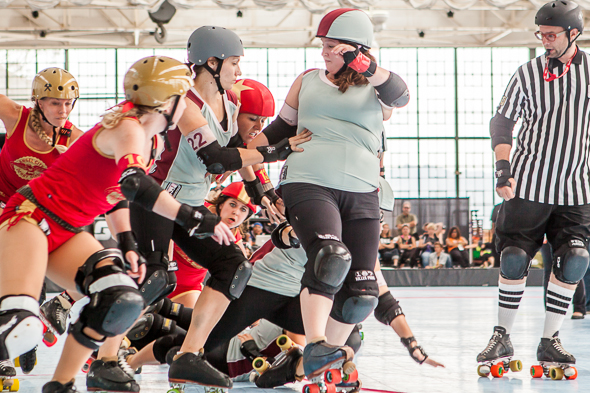 Finally, I could go somewhere an not worry about my bad reputation (not that I really worry anyway). Derby had all types of women competing and every demographic supporting their aunts, sisters, mothers, girl friends, daughters and friends.  Derby was like Glee all grown up, except I knew the music,  I understood the references, and every competitor was someone I wanted my daughter to meet. One of the skaters even named herself belle RIGHT hooks!… Read the rest
---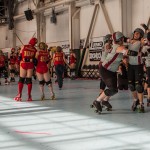 Was there any doubt that the bout between Angel City Derby Girls and the Sacred City Derby Girls was the greatest match of the 2012 Women's Flat Track Derby Association Western Regional Tournament?
The two teams are bitter sweet rivals with a relatively long history. When the bout ended, Angel City's tournament MVP Jammer Fifi Nomenon fell to the track one point short of Sacred City, but many fans thought Angel City won. The two teams fought, pushed, skated, and tugged the entire game. When Sacred City eventually won, players from both teams cried. Players from other teams cheered.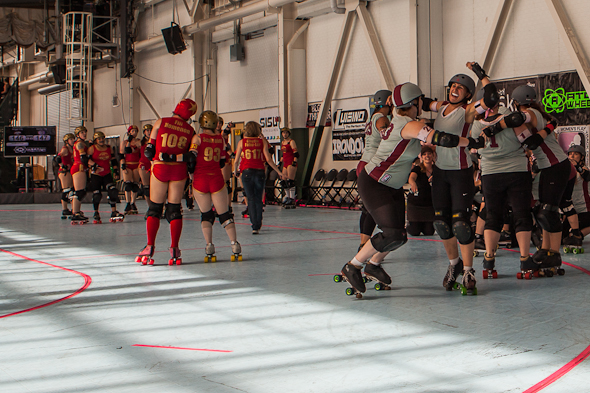 I love close games and I would watch these two teams compete every day. I also wish my children had attended so my son and daughter could have watched how the players respected each other despite the fierce competition. Despite losing an agonizing bout, Angel City congratulated their rivals. Sacred City celebrated without being arrogant.… Read the rest
---