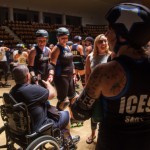 This post might turn out like my dinner tonight. I grilled a cheese sandwich with turkey, garden tomatoes and avocado. The sprouted bread fell apart, the crust became hard and the inside became mushy and cheesy. It tasted good, but I would not serve it to friends. While I rushed my dinner, I have spent several days trying to write this blog post.
I have yet to digest my emotions from last Saturday.
Before I attended Saturday's bout between the Santa Cruz Derby Girls Bombshells and the Bay Area Derby Girls Team Gold, I planned a simple post that included galleries from two previous bouts. I would discuss the community based organizations that the roller derby teams supported at recent events and I would mention how my children love attending roller derby too.
Then I met Bryan Stow.
I am a Dodger fan. I have loved the Dodgers since I was a little kid and moved to Fresno from the San Fernando Valley. When I was a child, I would sit on the floor and listen to the radio at night.… Read the rest
---
October 11, 2014
Santa Cruz, California
Last weekend I photographed the Santa Cruz Bombshells' final bout of the season. Santa Cruz hosted the New York Bad Apples at the Kaiser Permanente Arena. Because the bout was held in October, there was a costume theme. Because this was roller derby, a costume theme seemed a little redundant… until I participated.
Almost every roller derby skater and official adopt a persona and name. I have a derby name, (it's P Giddy), but I have not really lived up to it. I wondered if a costume theme would negate personas. Would some people dress as normal people? What is a normal person? Am I a normal person? Instead, it was double fun.
The previous weekend, I bought an old train conductor's hat in downtown Oakland and decided that I would wear a vest I bought twenty years ago. I also bought an antique lighter that I can use for business cards, but I do not really use business cards.… Read the rest
---