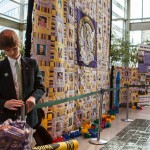 Student press supporters often claim that students "do not shed their constitutional rights to freedom of speech or expression at the schoolhouse gate." At a recent national journalism education conference, I noticed a different version of this quote. Outside the schoolhose gate, students express themselves too.
Fourteen year old Malcolm Sutherland-Foggio, started a non-profit for pediatric cancer research after Malcolm watched his friends die next to him in the hospital. Malcolm and his mother brought the national angel quilt to Seattle, and coincidentally, were stationed at the Washington State Convention and Trade Center. The journalism students and educators from JEA/NSPA  would pass his table several times each day.
During the convention, I met with students from the Carlsbad High School Lancer Link. These students somehow operate inside the school gates with readers throughout the world. I was familiar with the publication before the teacher asked me to critique the publication.… Read the rest
---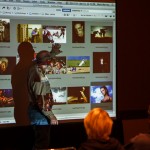 At the 2012 JEA/NSPA National High School Journalism Convention, Mark Murray and I presented a photography portfolio workshop. We have presented thirteen portfolio workshops at the last twelve JEA/NSPA national conferences starting in Nashville, Tennessee. (We have also presented at other conferences separately.)
At last year's Anaheim convention, we presented with Jim McNay. Jim is an influential photojournalism educator who helped us create the original presentation. I can trace most of my photography relationships to Jim. Jim also connected me to Grant Morris the photographer who allows Mark and me to use his college photography portfolio for our presentation. Grant was a student at Brooks Institute and the Eddie Adams Workshop. Jim started the Visual Journalism program at Brooks and he has worked many of the Adams weekends.
. 
Mark and I also use Zach Hetrick's high school portfolio. View Zach's current website to see how he developed.… Read the rest
---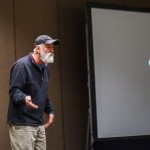 On Saturday, Dave LaBelle and I presented a workshop at the 2012 Spring National Scholastic Journalism Conference. This was the first time that Dave and I presented together although we have critiqued and judged photo competitions several times. At the last three conventions, the Journalism Education Association introduced a photo story category. Dave and I noticed that contestants did not seem to understand how to create compelling stories.
Students were submitting groups of photos that were often related, but missed important elements.  While structure is not the most important aspect, it is not inconsequential either.  As I stated during my presentation,
"Saying a photo story is about structure is like saying a good written essay is about having five paragraphs."
A good photo story changes the participants, including the photographer, but also the viewer and the subject. Photo stories are interactive.  I used the photo above to illustrate interaction. The photo also has a deeper meaning.… Read the rest
---