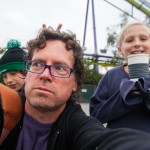 Writing is linear. Living with epilepsy is not.
So this blog post has started to resemble my life. I am trying to translate it for "you normals."
First: I had an amazing birthday on Saturday. My two children spent the day with me. They woke up early and followed the schedule that they had created. We left the house so that we could arrive early to volunteer at the 23rd Annual Epilepsy Stroll. I photographed the event for the Epilepsy Foundation of Northern California . My children were beautiful and supportive.
I felt blessed.
Second: I noted how I had grown as a person with epilepsy during the last six years. Six years earlier, I attended my first epilepsy walk. In 2009, the epilepsy stroll was also on my birthday. I look different now. I act different. In 2009, I was afraid to identify as a person with epilepsy. In six years, I have become an outspoken advocate.… Read the rest
---