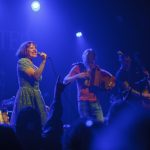 Last month, I photographed Skinny Lister during their current United States tour. Will Varley opened at The Independent in San Francisco.
This was my third time seeing Skinny Lister. Before the show, I asked people at The Independent how they had become fans. Many people had similar experiences to my own. We had seen Skinny Lister perform as an opening band or at a music festival. One person saw Skinny Lister play during the 2012 SXSW in Austin; they played on the sidewalk.
I first saw Skinny Lister in the Summer of 2012 during the Vans Warped Tour. I photographed about 30 bands that day. At a festival known for unusual performances, Skinny Lister was different. I wanted to see them again. In 2016, I saw them in San Francisco. I photographed their show and wrote an article.
Despite the dark venue, I took some decent pictures.… Read the rest
---