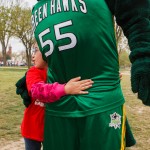 When I attended my first National Walk for Epilepsy in 2010, I was overwhelmed. After photographing The Concert for Epilepsy the previous night, I was tired. I was also nervous and had trouble seeing… not a good combination for a photographer.
Last year, when my family attended with me. It snowed the morning of the walk. My fingers could barely operate the camera, and my family did not prepare for cold weather.
This year, the 6th Annual National Walk for Epilepsy, I almost got it right.
If you are a novice photographer, forgive yourself if you do not take many great photos.  With thousands of people at the walk, almost every picture is a moving giant group photo (with a mixed race family). I love diversity, but it is difficult to photograph, especially when everyone wears a different colored shirt. And in case you are wondering… no, we do not consult a color wheel.… Read the rest
Apr 06, 2012 | Categories: Causes and Events, Travel | Tags: epilepsy, Social Media, Washington DC, Washington Mall | 2 Comments »
---