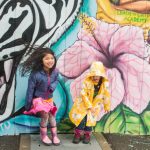 This is the eighth year that I have photographed the Melrose Leadership Academy dual immersion kindergarten students. I have photographed every kindergarten class since MLA introduced the Spanish bilingual program. My daughter was in the first class; my son started two years later. I have also photographed other activities, often as the Historian. (See the MLA Collection of Galleries.)
MLA is an OUSD district school. We have created something special in a place where failure is expected. If I did not have my pictures, I would question whether we ever built the school. Some days, I still wonder if I am hallucinating.
One of my mentors, Jim McNay, recently sent me an article about long-term projects from the Magnum Photo Agency site. The authors provide "Five lessons in developing and sustaining a long-term photographic project." The first lesson: have a mission statement. Why is this story important?
My goals have changed during the eight years, but my reasons have remained consistent.… Read the rest
---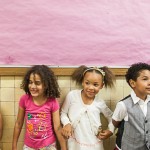 My two children attend Melrose Leadership Academy in Oakland, California. MLA is a Spanish dual immersion K-8 school. Our school is part of Oakland Unified School District. In previous years, I have posted more frequently about our school, but this year I have been busy teaching photography and yearbook at Pittsburg High School. Both school districts finish their year next week.  In this post, I will share a few events I photographed during 2014.
The first photos are from the 2014 Winter Performance Expo. The middle photos are from the 2014 Spring Academic Expo. The last few photos are from the 2014 Spring Performance Expo.
When I walk into the school, I "read" the signs on the wall. I see many of the signs when I am editing my photos. There is one sign that I seem to see more than any others. It reads, "Somos responsables de nosostros mismos y de nuestra comunidad."
We are responsible for ourselves and our community
I do not speak Spanish, but I can look at my pictures and see people caring for each other.… Read the rest
---