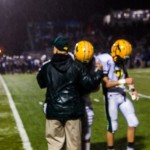 Two years ago, I taught multimedia at San Marin High School in Novato, California. I love teaching and I loved the San Marin community. I was especially fortunate that the year I worked at San Marin, the boys basketball team won its first NCS Section Championship in school history and the baseball team shared a section title. (The shared baseball championship might be the only one in California history.)
Some of my former students play on this year's San Marin High School football team. The Mustangs started the season slowly. When the playoffs began, the team started winning. On Friday, the football team almost won the school's first North Coast Section football title.
Almost.
(A Link to the entire photo gallery is here)
Instead, the Justin-Siena Braves defeated the San Marin High Mustangs 27-13 to win the 2012 North Coast Section Division 4 Football Championship at Dodd Stadium in Napa, California.… Read the rest
---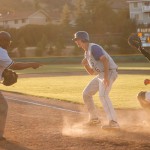 Last June, the North Coast Section 3 baseball championship was shared between San Marin High School and Acalanes High School. I have photographed some unusual events, but the game that ended in a 4-4 tie might have been the strangest.  After ten innings, the umpires called the game because of darkness. Nobody celebrated winning.
Photographing the final was anticlimactic. To explain what it was like shooting the game, compare the photos from the NCS Basketball Championships with the photos below.
A championship game should have celebration (or jubilation) and sorrow. For such a close game, there was … almost something. Acalanes led 4-2 going into the bottom of the 7th. San Marin tied the score and loaded the bases with no outs! San Marin needed one run to win the championship… but didn't. In the 9th, San Marin threw a runner out at home. The game was exciting, but there was no final resolution.… Read the rest
---